By Peter Bergel
On November 9, a delegation organized by Oregon PeaceWorks met with Oregon's 5th District congressional representative Kurt Schrader. On the agenda were the wars in the Middle East, global warming and health care. The meeting included representatives from OPW, Veterans for Peace, 1000 Friends of Oregon, Fellowship of Reconciliation and Physicians for Social Responsibility.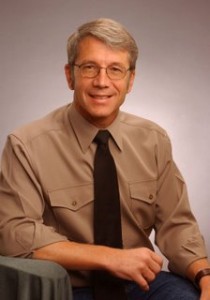 Afghanistan
Leah Bolger of Veterans for Peace kicked off the discussion by thanking Schrader for co-sponsoring HB 2404, which would require an exit strategy from Afghanistan to be formulated and agreed upon before any further funding for that war would be approved. Schrader said that the current supplemental appropriation for Afghanistan contains a provision that requires the administration to come up with an exit strategy within one year. Bolger asked Schrader to co-sponsor HB 3699, which would explicitly forbid additional funding for the Afghanistan war without an exit strategy. Schrader said he is very selective about which bills he will co-sponsor. He said he is a freshman congressman and is not fully up to speed on foreign policy, but he is not in favor of adding any more troops in Afghanistan and would like to see those already there brought home. He reiterated this later in the meeting. However, he said the administration had asked for a year to deal with the situation, which he thought was fair. The delegates indicated their preference for an early end to the war.
Israel/Palestine
Ed Hemmingson of the OPW Board suggested that the U.S. stop sending "welfare" to Israel. He said if we cut off military assistance to Israel, they would quickly find a way to negotiate a settlement with the Palestinians. He then expressed our collective disappointment that Schrader had voted with the majority of the House to denounce the U.N. Goldstone war crimes report (HR 836). Schrader said he thought the report was "incomplete," but admitted that he did not know much about it. Paul LaRue of Fellowship of Reconciliation said the report was written by a highly respected human rights champion who is himself a Jew. LaRue related an incident in which Richard Goldstone responded to a challenge that the report was "flawed," by asking the challenger to name the flaws, but the challenger was unable to do so. The report has been endorsed by the 47-member Human Rights Council in Geneva and received overwhelming support from the 192-member U.N. General Assembly.
Global Warming
I told Schrader that OPW is involved in the global warming issue because we see many wars coming down the pike as a result of shortages caused by climate change, such as food, land, resources and water. Pressures caused by refugees fleeing climate crises will heighten the likelihood of conflict. The time to head off these potential wars is now – by addressing global warming, something we have to do anyway for many other reasons. Sid Friedman of 1000 Friends of Oregon asked for Schrader's help in ensuring that bills now in the pipeline do not restrict federal assistance on integrated land use planning exclusively to large metropolitan areas. Land use planning can play a key role in reducing global warming by siting people's work, homes and shopping near one another.
Hemmingson also suggested that global warming be addressed by eliminating many forms of waste, starting with, but not limited to, that caused by the military.
Dr. Andy Harris, former national president of Physicians for Social Responsibility and former OPW Board Chair, noted that both organizations oppose nuclear power as a response to global warming.
Health Care
Harris then went on to thank Schrader for voting in favor of the current health care bill, the House version of which includes a public option provision. Both he and Schrader agreed the bill is not perfect by any means, but Schrader said he thought it would prove about 90% satisfactory to the people in his district. He says it does not control costs as much as he would have liked, but said that something absolutely had to be done because the current health care system is "unsustainable." He then linked the lack of sustainability of the health care system to the lack of sustainability that is leading to global warming.
The meeting concluded on a friendly note, and all delegates subsequently agreed that it had gone about as smoothly as such meetings ever do. Φ
Peter Bergel is the Executive Director of Oregon PeaceWorks.