President Barack Obama vowed not to forget American Indian tribes as representatives gathered for a White House conference on native issues.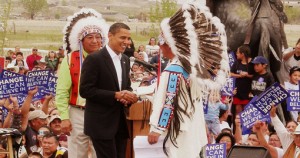 The first annual White House Tribal Nations Conference brought together one delegate from each of the 564 federally recognized American Indian tribes on November 6. It was the first time in U.S. history that they all met a sitting president.
The event is part of Obama's efforts to build bridges with American Indian and Alaska Native communities.
In opening remarks, which received a standing ovation, Mr Obama said: "You will not be forgotten as long as I'm in this White House."
The event's agenda covered a variety of issues, from centuries-old broken treaty promises to more modern issues such as healthcare, crime and poverty. Obama said he had asked every cabinet agency to provide him with a plan on how to improve relations between the government and tribes.
"We're not going to go through the motions and pay tribute to each other, then furl up the flags and go our separate ways," he was quoted as saying by Associated Press.
The president acknowledged the U.S. federal government's history of ignoring the needs and rights of American Indians and Alaska Natives. He was greeted with applause when he said, "In the final years of his administration, President Clinton issued an executive order establishing regular and meaningful consultation and collaboration between your nations and the federal government. But over the past nine years, only a few agencies have made an effort to implement that executive order — and it's time for that to change."
Election Pledge Fulfilled
Obama also said the widespread social and economic struggles faced by the communities were not acceptable and would change while he remained in office.
The historic summit is the first time such a large number of tribal leaders have attended a single gathering with the federal government.
Since taking office a year ago, the Obama administration has allocated $3 billion in stimulus funding to American Indian programs.
The president also appointed a member of the Cherokee Nation to his White House team as senior policy adviser for Native American affairs – fulfilling an election campaign pledge.
He also appointed an American Indian as director of the Indian Health Service within the Department of Health and Human Services – the first such appointment.
There are about two million Native Americans in the United States and one million in Canada.
•    There are 564 federally recognized tribes, the largest being the Cherokee with a population of nearly 730,000.
•    Other major tribes include the Navajo, Choctaw, Sioux, Chippewa and Apache.
•    There are about 150 different Native American languages.
Those living on reservations must obey federal laws, can vote in national elections and can serve in the armed forces, but they are also subject to tribal laws and elect tribal leaders . Φ
Drawn from news reports, especially http://news.bbc.co.uk/go/pr/fr/-/2/hi/americas/8344449.stm and http://thegovmonitor.com/world_news/united_states/president-obama-speaks-at-white-house-tribal-nations-conference-14099.html .
Photo: www.indianz.com/news/images/obama051808d.jpg