by Bill McKibben
Let's consider for a moment the targets the federal government chooses to make an example of. So far, no bankers have been charged, despite the unmitigated greed that nearly brought the world economy down. No coal or oil execs have been charged, despite fouling the entire atmosphere and putting civilization as we know it at risk. But engage in creative protest that mildly disrupts the efficient sell-off of our landscape to oil and gas barons? As Tim DeChristopher found out on March 3, that'll get you not just a week in court, but potentially a long stretch in the pen.
Wanted: Willingness to Jump
Tim is a hero not because he knew what he was getting into. As his testimony made clear this week, he had no idea at all; his decision to become Bidder No. 70 was about as spontaneous an action as we've ever seen.
And that's what we need more of; a willingness to jump. Not blindly — if we're going to do civil disobedience on a mass scale, and I think we're going to have to, then some careful planning is necessary. But when you get right down to it, there's always going to be a moment when you have to say time to jump. Time to leave behind the world you've known and take a chance. The furniture of power — from stone-faced cops to imposing courthouses — is all designed to make you turn back from that edge.
Tim took that leap. The government is going to try and make an example of him. It will be harder for them if there are more of us.
The Bell is Tolling for You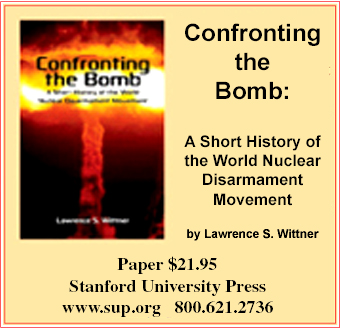 And who should that "us" be? Not just, or even mainly, college kids. That's too easy, and it's not fair since they still have first jobs to land, careers to build. Better those of us who have spent our lives pouring carbon into the air. I remember my old and dear friend Doris Haddock, also known as Granny D. We were arrested together a decade ago, in the first instance of civil disobedience on climate change in the country. Compared with Tim we took no real risk — as it turned out, we didn't even spend the whole night in jail. But I remember the moment when Granny D, handcuffed to me, looked up and said, "I'm 93 and I've never been arrested before. I should have started long ago!"
If you're outraged by what happened to Tim, and if you're inspired, make sure to follow the group he's helped found, Peaceful Uprising. And if you're thinking about laying it on the line, give us your name at ClimateDirectAction.org.
If the feds think this prosecution/persecution will deter us from working for a livable planet, they couldn't be more wrong. Tim was brave and alone. We will be brave in quantity.
Read more about  DeChristopher's guilty verdict.Also here.Φ
Bill McKibben is the author of a dozen books on the environment, a scholar in residence at Middlebury College, and founder of 350.org. This article is reprinted from Grist Magazine online.