By Michael Mariotte
Even while the tragedy of the Fukushima disaster continues and our thoughts and prayers remain with the people of Japan, there has been a spate of good news on this side of the Pacific.
x

x
*NRG Energy has pulled out of the South Texas Nuclear Project and is taking a $481 million loss–essentially ending that dangerous and unnecessary project.
*An NRC Licensing Board, saying that UniStar Nuclear is not eligible to build a reactor in the U.S. has ordered UniStar and the NRC Staff to show cause as to why they shouldn't rule in NIRS' favor, deny a construction license for Calvert Cliffs-3, and end the proceeding.
*A new Washington Post/ABC News poll confirms earlier polls: 64% of Americans now oppose new reactor construction–59% strongly oppose.
*An effort in Missouri to institute a Construction-Work-in-Progress (CWIP) bill to support Ameren UE's efforts to license their proposed Callaway reactor failed in the state senate.
And Rep. Ed Markey (D-Mass.) has introduced a nuclear bill that is worth supporting. HR 1242 would:
*Â  Ensure that nuclear power plants and spent nuclear fuel pools can withstand and adequately respond to earthquakes, tsunamis, strong storms, long power outages, or other events that threaten a major impact.
* Require nuclear power plants to have emergency backup plans and systems that can withstand longer electricity outages.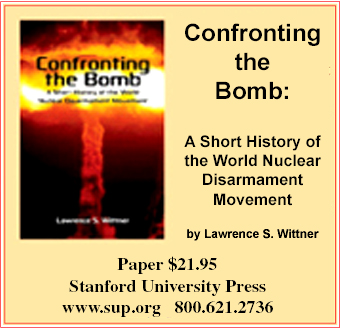 * Require spent nuclear fuel to be moved into safer dry cask storage as soon as the fuel is sufficiently cooled to do so.
* Require the Department of Energy to factor in the lessons learned from the Fukushima meltdown when calculating the risk of default on loan guarantees for new nuclear power plants.
It's not a perfect bill; it's not all we want by any means. And given the nature of the current Congress, even this is unlikely to pass. But we believe it is important for this bill to garner as many co-sponsors as possible to help set the tone for real changes in the next Congress.
Please send a letter to your Representative now and urge him/her to co-sponsor HR 1242.
And more news…
*Many anti-nuclear actions are planned for the coming days and weeks.We've listed those we know about on our new Actions page. Take a look and join the action nearest you! Or, if you know of an action not listed, send us the info to nirsnet@nirs.org. And don't see an action near you? Start one and we'll list it and help publicize it.
*The ten-point Grassroots Post-Fukushima Program for Nuclear Safety and Security, to which many activists contributed through conference calls and e-mails, will be formally unveiled in a full page ad in The Nation published yesterday – the 25th anniversary of the Chernobyl catastrophe.
It's not too late to sign your organization on to this program. You can read the program and see the current list of organizational signers here. If your group would like to sign, please send your name, organization, city and state to us at nirsnet@nirs.org.
If you'd like to support the statement as an individual, please sign the petition here.
Here are two important ongoing actions:
* We are continuing to urge letters to Congress to end taxpayer funding of new reactors. You can take action here. More than 40,000 letters have gone in so far – let's keep it up!
* We are continuing to urge the permanent shutdown of the 23 GE Mark I reactors in the U.S., which suffer from the same fundamental design flaws that contributed so greatly to the Fukushima diaster. You can support this campaign here, more than 6,500 people have done so already.
* Finally, NIRS is hiring a new Activist/Organizer/Campaigner to provide greater support for regional, state and local anti-nuclear campaigns. You can check out the job description and application instructions here.  Φ
Michael Mariotte is the Executive Director of the Nuclear Information and Resource Service, 6930 Carroll Avenue, #340, Takoma Park, MD 20912; 301-270-6477; nirsnet@nirs.org; www.nirs.org
Stay Informed:
NIRS on Facebook: http://www.facebook.com/pages/Nuclear-Information-and-Resource-Service/26490791479?sk=wall&filter=12
http://www.facebook.com/nonukesnirs
http://www.causes.com/causes/49098-no-nukes-nuclear-information-and-resource-service
NIRS on Twitter:http://twitter.com/#!/nirsnet