By Craig Cline
On Sunday, November 11th, the Statesman Journal asked its readers to vote on "how they observe Veterans Day," the legal holiday on which citizens honor all veterans of our armed forces.
Interestingly, Veterans Day is observed on Armistice Day, the anniversary of the armistice (stopping of warfare by mutual agreement) of World War 1 in 1918.
Stay Out of Wars
Among my own observations was the correlation between the need for us not only to honor our veterans but also the need for us to at least try to stay out of the wars that so adversely affect them, their families, and — at least indirectly –Â  virtually all of us.
In researching Veterans Day, I learned that the Veterans Administration has 152 hospitals presently treating our deserving veterans, including about 50,000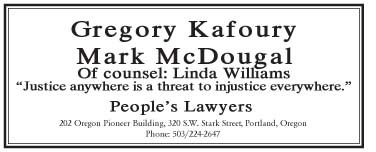 troops wounded in Iraq and Afghanistan.
Over 2.5 million Americans have served in just the past decade of our wars; men and women who are part of the 20-plus million U.S. veterans still living.  We owe all of them our deep gratitude for their service, and Veterans Day is the day to give it.
Every November 11th, I note with dismay, however, the degree to which this holiday is geared toward inducing us to shop for merchandise at various "Veterans Day Sales."
Skip Shopping, Donate to Vets Organizations Instead
I want to recommend an idea by which we can better observe Veterans Day.  How about taking some of our focus off shopping, and instead directing that focus toward donating to organizations that serve our veterans?
Such organizations include:Â  Help Hospitalized Veterans, Wounded Warriors Project, Paralyzed Veterans of America, USO (United Service Organizations), Oregon Veterans Home, United States War Dogs Association, Iraq Veterans Against the War, American Legion, Adopt A Platoon, as well as many others.
Among the adversities that affect our veterans can be the twin evils of hunger and homelessness.  America still has about 65,000 homeless veterans, and we have our share of such unfortunate folks right here in our community.
Our local non-profit organizations step up to help these veterans, and we ought to ourselves step up to, in turn, support them.  Extremely effective organizations like the United Way, Marion-Polk Food Share, Union Gospel Mission, American Red Cross, and the Salvation Army — just to mention a few — deserve our personal participation in helping them accomplish their vitally important missions.
I ask that you and your family, as an alternative to shopping for "stuff," join my family in doing the following as part of your holiday activities:  donate your money, and/or your time, to any or all of the organizations listed above, or any others of your choosing.  You can also give, in lieu of presents,  monetary gifts to them in the name of your friends and family members.
In so doing, you will be "observing and honoring" our patriotic veterans and the supportive agencies that do so much to try to help them.
After all, what holiday-related gift could be much more personally fulfilling than the real satisfaction you'll get by reaching out in this thoughtful, unselfish way to "those who serve?"   Φ

Craig Cline is a local businessman who advocates for non-profit organizations in general, including those that serve our veterans in their times of need.