By Peter Kaiser
"Alarming spike in the misuse of religion to justify violence": KAICIID Secretary General at UN Launch of Action Plan
NEW YORK, July 17, 2017 /PRNewswire/ — The International Dialogue Centre (KAICIID) Secretary General Faisal Bin Muaammar represented the Centre at the launch of the first ever action plan specifically designed to enable religious leaders to prevent and counter incitement to violence – the Plan of Action for Religious Leaders and Actors to Prevent and Counter Incitement to Violence that Could Lead to Atrocity Crimes. The plan was launched on 14 July 2017 by Secretary-General António Guterres at a meeting at United Nations Headquarters in New York.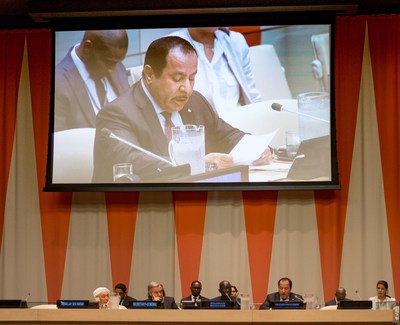 International Dialogue Centre (KAICIID) Secretary General Faisal Bin Muaammar
The Plan of Action was developed over two years of intensive consultations at the global and regional levels organized by the United Nations Office on Genocide Prevention and the Responsibility to Protect, with the support of the International Dialogue Centre (KAICIID), the World Council of Churches (WCC), and the Network for Religious and Traditional Peacemakers.
The plan was developed in response to an alarming spike in recent years in hate speech and incitement to violence against individuals or communities, based on their identity. Incitement to violence, in public discourse and the media, is both a common warning sign and a precursor of atrocity crimes. The Action Plan is the first document to focus on the role of religious leaders and actors in preventing incitement to violence that could lead to atrocity crimes and the first to develop context specific regional strategies with this objective.
Implementation of the Plan of Action will contribute to the prevention of atrocity crimes, especially in areas affected by religious and sectarian tensions and violence and enhance the respect, protection and promotion of human rights, including the rights to freedom of opinion and expression, freedom of religion or belief and peaceful assembly.
Secretary General of the United Nations, Antonio Guterres said: "All religions teach respect for life, and recognize human beings as fundamentally equal. These principles summon us to show respect for all human beings, even those with whom we might profoundly disagree or whose cultures might seem alien. I urge the widest possible dissemination and implementation of this Plan of Action. It can help to save lives, reduce suffering, and realize our shared vision of peaceful, inclusive and just societies in which diversity is valued and the rights of all individuals are protected."
Faisal Bin Muaammar, Secretary General of the International Dialogue Centre (KAICIID) said: "In our work with leaders of religious communities, we have seen an alarming spike in recent times of incitement to violence against people based on their religion, and in the misuse of religion to justify violence. Religious leaders are keen to work together to find solutions to these pressing challenges. Attempts to find solutions to these challenges have tended to exclude religious leaders. A 360-degree approach which brings religious leaders, policymakers, and civil society to the dialogue table is the only way to build solutions that work."
The Plan of Action is pioneering both in its focus on religious leaders and actors, and in the wide range of organizations and stakeholders that contributed to its development. It contains concrete recommendations to prevent incitement to violence, strengthen communities' resistance to incitement, and build mechanisms for a united response.Φ
Peter Kaiser wrote this piece for the PRNewswire and the International Dialogue Centre (KAICIID).