By Andrew Buncombe
More than a dozen protesters who clambered into holes dug for a high pressure gas pipeline said they had been found not responsible by a judge after hearing them argue their actions to try and stop climate change were a legal "necessity".
Karenna Gore, the daughter of former Vice President Al Gore, was among more than 198 people who were arrested because of their 2015 actions protesting the pipeline in West Roxbury, Massachusetts, a neighbourhood of Boston. Thirteen people were to go on trial this week, though prosecutors downgraded their original criminal charges to one of civil infraction.
On Tuesday, Judge Mary Ann Driscoll of West Roxbury District Court, found all 13 defendants not responsible, the equivalent of not guilty in a criminal case. She did so after each of the defendants addressed the judge and explained why they were driven to try and halt the pipeline's construction.
Speaking outside the court afterwards, Ms Gore, 44, Director of the Centre for Earth Ethics at Union Theological Seminary in New York, said the court's decision was historic. "What happened today was really important," she said.
"The people….were found not responsible by reason of necessity. The irony is that we are making ourselves responsible. We're part of the the movement that is standing up and saying we won't let this go by on our watch. We won't act like nothing's wrong."
Marla Marcum of the Climate Disobedience Centre, which supported the activists, said that each of the 13 had addressed the judge about why they had been part of the protests against the pipeline, which was constructed by Houston-based company Spectra Energy.
"At the end, she said they were all not responsible by reason of legal necessity," she said. She said she expected an audio recording of the hearing to be made available by the court and her group would then share it.
Neither Ms Driscoll or the court clerk was available for comment. However, one member of the court's staff who asked not to be named, confirmed to The Independent the judge had found them not responsible. The person denied, however, that the judge had made the ruling on the grounds of legal necessity.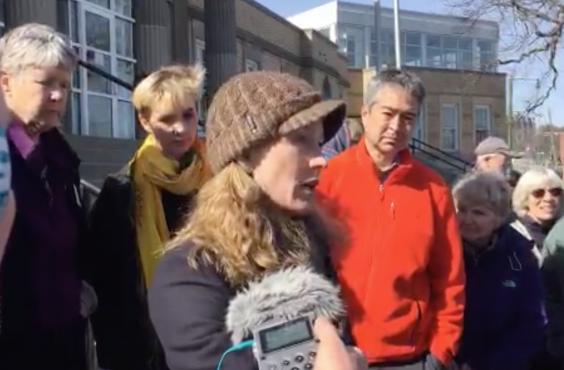 Ms Gore said the protesters were part of a movement that was not allowed to let such things happen 'on our watch' (YouTube)
The environmentalist and academic Bill McKibben, who was to appear as a defence witness for the defendants, said on Twitter: "Good golly! A few minutes ago a Boston judge acquitted 13 pipeline protesters on the grounds that the climate crisis made it necessary for them to commit civil disobedience. This may be a first in America."Φ
Andrew Buncombe is The Independent's US Editor, based in New York. Previously located in Delhi and Washington DC.This article appeared on March 27 at The Independent.