By Tricia White and Matt Korda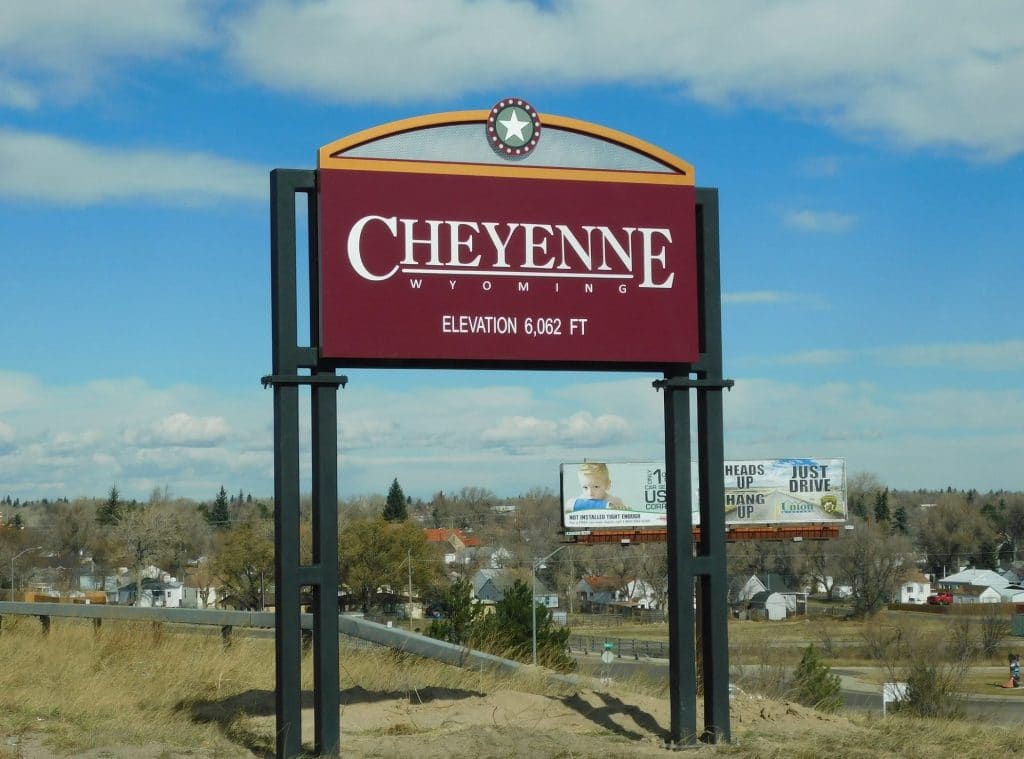 Few would guess that Cheyenne, Wyoming might be the target for a nuclear attack. But because of its proximity to F. E. Warren Air Force Base, one of three bases in the United States that house nuclear-tipped missiles, it is. Image credit: Jimmy Emerson via Flickr.
If Russia were to launch a nuclear attack against the United States, what would the targets be? You might guess the most likely targets would be major cities like Washington D.C. or New York City, and you wouldn't be wrong. But would you have also guessed Great Falls, Montana (population: 58,505) and Cheyenne, Wyoming (population: 65,165)? These small communities are part of the United States' "nuclear sponge"—areas in Colorado, Montana, Nebraska, North Dakota, and Wyoming that house the US arsenal of intercontinental ballistic missiles (ICBMs) and that are supposed to "soak up" hundreds of incoming nuclear warheads. Should an attack on the United States ever occur, these Midwestern states would be the first to go. And, somewhat counterintuitively, the majority of residents in these communities want to keep it that way.
It is difficult to overstate the degree to which ICBM-hosting communities rely on retaining their missiles. Missile bases like Minot in North Dakota, F. E. Warren in Wyoming, and Malmstrom in Montana are directly responsible for between eight and thirteen percent of their respective local labor forces. Additionally, the indirect economic benefits—a by-product of everyday activities like grocery shopping or school registration—certainly boost those numbers even further.
Recognizing that ICBMs could function as an economic insurance policy for local communities, politicians jockeyed to bring nuclear missiles to their states during the early stages of deployment in the 1960s. In one particularly infamous case, Missouri Sen. Stuart Symington wrote to General Thomas Power, head of Strategic Air Command to ask, "Dear Tommy, why can't we have one of the missile bases in Missouri?" Symington, previously the first Secretary of the Air Force, was heavily tied to weapons contractors, and his then-unique position at the intersection of business, politics, and the military prompted President Eisenhower to issue his prescient warning about the dangers of the "military-industrial complex."
Today, this type of politicking has organized itself into the Congressional ICBM Coalition—a bipartisan collective of lawmakers from the three ICBM host states plus Utah, where ICBM sustainment and replacement activities are headquartered at Hill Air Force Base. The coalition's members are extremely well-funded by contractors like Northrop Grumman, which spent more than $162 million on lobbying from 2008 to 2018. In a fantastic return on investment, Northrop Grumman was recently awarded a $13.3 billion contract to manufacture a replacement for the aging Minuteman III, the only land-based, nuclear-armed missile in the US arsenal.RELATED:The nuclear launch authorizer's guide to staying calm on election night
These weapons contractors are not just funding politicians, however. They also work in concert with local community leaders to sustain and modernize the ICBM force ad infinitum. In response to potential base closures throughout the 1990s, many ICBM communities formed coalitions via their Chambers of Commerce to advocate for their neighboring bases to stay open. Today, community-led organizations like Task Force 21 (Minot), the Montana Defense Alliance (Malmstrom), and the Wyoming Wranglers Committee (F. E. Warren) meet with Pentagon officials, weapons contractors, and their Congressional representatives to advocate on behalf of their respective bases. It's especially notable just how integrated these groups are with their local communities: they offer career opportunities in schools, allow weapons contractors to host community events when new project bids are occurring, and guide local businesses through the ins-and-outs of subcontracting for Northrop Grumman, Boeing, or Lockheed Martin. Since many of the organizations' activities are in turn sponsored by these corporations, it's effectively a win-win for everyone involved.
However, these intimate relationships between local communities, corporations, and politicians come with serious ramifications. In a cruel twist of irony, it means that in order to protect their livelihoods, community leaders are encouraged to ensure that their respective cities remain—now and forever—ground zero for a future nuclear attack.
These communities are also expected to lobby on behalf of an ICBM replacement program that is dangerous, unnecessary, and very expensive. Not only do ICBMs serve little strategic purpose in a post-Cold War environment, but they are also the only weapons in the US nuclear arsenal that force the president to make potentially catastrophic decisions within mere minutes. For these reasons, as well as their astounding $264 billion estimated life-cycle costs, several nuclear experts—and a majority of both Democrats and Republicans—agree that the Pentagon should hit pause on the ICBM replacement program while officials examine cheaper life-extension options for the current arsenal. Many even argue the United States should eliminate the ICBM leg of the nuclear triad altogether.RELATED:Climate change: Meet the generation gap
Additionally, as Gretchen Heefner, a professor at Northeastern University, articulates in her book The Missile Next Door, "By insisting that new missions be found for old bases, that more money be spent to upgrade facilities and fortify defenses, Americans [have] long stopped resisting militarism and instead embraced it as an economic necessity." And who could blame them? If the Minuteman ICBMs were to be phased out, the futures of Minot, Malmstrom, and F. E. Warren Air Force Bases—and the communities that serve them—would be thrown into jeopardy. Heefner quotes one ICBM community's Chamber of Commerce president on the indirect impacts of such closures: "A lot of people probably won't realize the impact until their soccer coach is gone and their Bible teacher is not here or their teacher's aide is gone." "Nothing so aptly demonstrates the dependency of American municipalities on the military," Heefner concludes, "as the threat of its abandonment." To that end, organizing to keep their nuclear ICBMs is a form of community self-defense, albeit one with far-reaching consequences.
This presents a challenging conundrum for the nuclear expert community. It is easy to advocate for the phaseout of the ICBM force by only examining the costs and benefits on paper. In fact, such a phaseout is a realistic and worthwhile security goal, but it may come at the cost of American jobs and rural towns.
If disarmament advocates really want to push for the retirement of the US ICBM force, we need to come prepared with answers to the economic problems it would have on these "nuclear sponge" communities. Is Congress willing to offer a guaranteed income to the constituents who will lose their jobs? Will there be an equivalent of the Paycheck Protection Program? How does a community that loses its predominant industry rebuild its economy, especially in the aftermath of a devastating pandemic? Without answers to these questions, disarmament could be the very thing that destroys them—long before a nuclear missile ever strikes American soil.
Tricia White is an intern for the Nuclear Information Project at the Federation of American Scientists. She is currently an undergraduate honors student at the University of Georgia obtaining an AB in international affairs with an Arabic minor and a concentration in security studies. Tricia's research interests include nuclear politics, strategic wargaming, and climate security.
Matt Korda is a research associate for the Nuclear Information Project at the Federation of American Scientists, where he co-authors the Bulletin's Nuclear Notebook with Hans Kristensen. Previously, he worked for the Arms Control, Disarmament, and WMD Non-Proliferation Centre at NATO HQ in Brussels. He is also the co-director of Foreign Policy Generation––a group of young people working to develop a progressive foreign policy for the next generation.
This article was published on October 28 at the Bulletin of the Atomic Scientists.