By Natylie Baldwin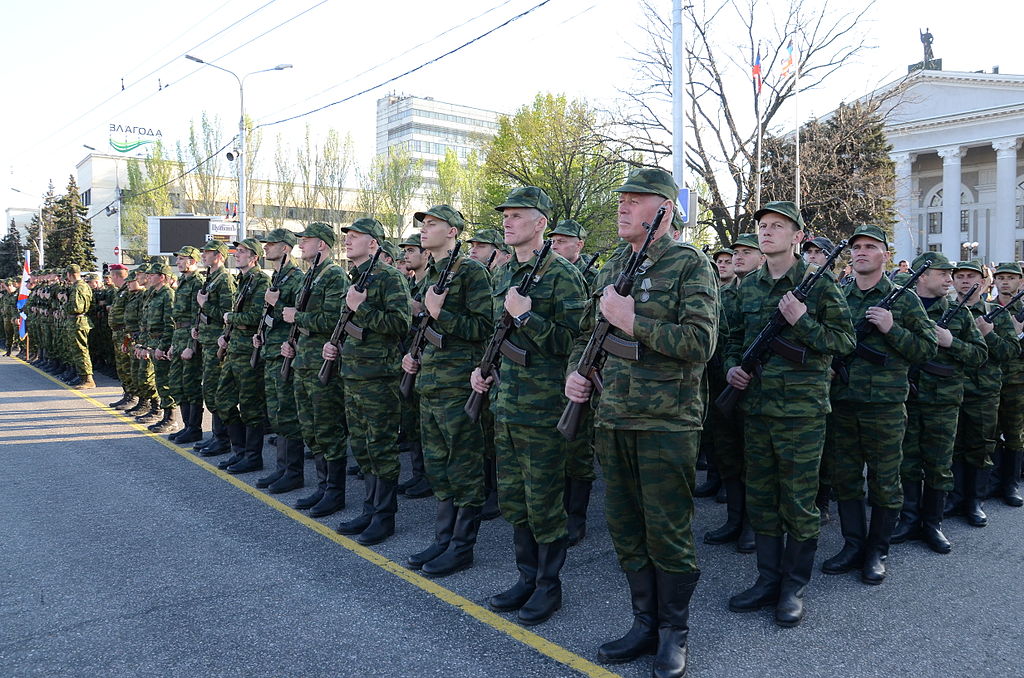 There have been recent reports of intensified fighting near the line of contact in the Donbass area of eastern Ukraine between Kiev forces and Donbass rebels who are supported by Russia. The Organization for Security and Co-operation in Europe (OSCE) Special Monitoring Mission reported a rise in ceasefire violations [at the end of the week before last] from 89 to nearly 500. There are accusations back and forth of new attacks by Kiev forces on Donbass and a military buildup in Russia near the border with eastern Ukraine. According to reporting from RT yesterday:
Speaking to journalists on Friday, Kremlin spokesman Dmitry Peskov said that a series of military clashes in the Donbass region was a cause for concern. "Unfortunately for us," he said, "the reality on the line of contact is quite frightening, and not just one, but many, provocations by the Ukrainian Armed Forces are taking place."
Kiev insists that Russia is building up troops near the shared border and blames separatists, who have previously received support from Moscow, for breaking a ceasefire. "Russia's current escalation is systemic, [the] largest in recent years," Ukrainian Foreign Minister Dimitry Kuleba said in a statement issued earlier this week. Kiev officials last week said that four of its soldiers had been killed by shelling during clashes with rebels in the east of the country.
Andrey Rudenko, Russia's deputy foreign minister, denied that Moscow had anything to gain from an increase in tensions. "I am sure that all the talk about some upcoming conflict between Ukraine and Russia is an example of another fake spread primarily by the Ukrainian authorities," he said. "Russia is not interested in any conflict with Ukraine, let alone a military one."
Some western outlets are reporting on admittedly unverified footage that purports to show Russian forces moving tanks and other military equipment into the Donbass and Crimea. The Pentagon's press secretary, meanwhile, has repeated claims from Kiev that 4 Ukrainian soldiers were killed in the Donbass, blaming it on Russian operations.
According to Russian news agency TASS, the Donetsk People's Republic has claimed that the four Ukrainian soldiers died as a result of a mine explosion during an inspection. Russian media also states that "The Ukrainian command also transported military equipment and personnel in an eastern direction in February-March 2021 by railroad."
Yesterday, President Biden spoke to his Ukrainian counterpart by phone for the first time and, according to reporting by the WSJ, was partly to add to calls from other important figures in Washington seeking to bolster Ukraine amidst what is being characterized as Russian aggression:
With Russia's military mobilizing along Ukraine's borders, Mr. Biden's call is the latest of a flurry of efforts to reassure Kyiv. Earlier this week, there were calls between U.S. Secretary of State Antony Blinken, Defense Secretary Lloyd Austin and Joint Chiefs of Staff Chairman Gen. Mark Milley and their Ukrainian counterparts.
On Monday, Biden's national security adviser Jake Sullivan held a phone conversation with Mr. Zelensky's chief of staff, Andriy Yermak.
One of those previous calls, by Defense Secretary Austin, included promises of "reaffirmed unwavering US support for Ukraine's sovereignty, territorial integrity, and Euro-Atlantic aspirations."
It is worth remembering that part of the backdrop of these increased tensions is Ukraine's plans to build two military bases in the Black Sea area with financial backing from the UK, a NATO member. In fact, the project was officially announced at NATO headquarters in Brussels in February. According to an article from Stars & Stripes:
The Navy destroyers USS Porter and USS Donald Cook have been operating with allies and with Ukraine's navy in the Black Sea since January. On Tuesday, both warships, along with a P-8A reconnaissance plane, joined with two Turkish frigates and F-16 fighters in an integrated surface, air and subsurface warfare drill. On Wednesday, the destroyers departed after 17 days, one of the Navy's largest deployments in the Black Sea in recent years.
This is in addition to NATO member Turkey's assistance to Ukraine against the Donbass.
As for whether Kiev will move ahead with an all out offensive to regain control over the Donbass – something that Russia would not allow to happen and would thus trigger a military reaction – plenty of people are speculating that Kiev would do so under the belief that Washington would step in and defend Kiev militarily. This is reminiscent of then Georgian president Mikhail Saakashvili's belief in 2008 that Washington would have his back when he decided to attack Russian peacekeepers in South Ossetia in order to take back the breakaway region. Consequently, he was left in the lurch and got his rear end handed to him by the Russian military. The political class in Washington has no problem setting others up to achieve its own ends regardless of the cost to the lackey who is foolish enough to play this role. There are numerous reasons why the blobby swamp creatures might want to create a provocation in the hopes of getting Russia labeled yet again as the aggressor: to keep it isolated with more sanctions, one last desperate attempt to kill Nordstream 2, undermine a tendency in Berlin and Paris to work toward some kind of reconciliation with Moscow, etc.
I can't emphasize enough how utterly stupid and insane this would be. But both DC and Kiev have shown that they can do stupid and insane quite well, so it can't entirely be ruled out.
Analyst Anatoly Karlin wrote recently that he thinks there is an increased chance of an all-out military conflict in Donbass due to military equipment being moved in through the port of Odessa in Ukraine recently from the U.S.:
The other reason is that quite a few people I know who are connected with the Donbass are near certain about a coming conflict to an extent that I don't recall seeing in years (this excerpt from a discussion featuring Igor Strelkov on Sergey Zadumov's show is not unrepresentative). Expected timeline appears to be late April to July.
I spoke 2 days ago with independent journalist and documentary filmmaker Regis Tremblay who is currently in Russia and has his own sources in the Donbass. He told me the following:
I can assure you that the situation all along the Ukrainian Donbass and Crimean borders is extremely tense and volatile. The US is putting heavy pressure on Ukraine to attack and take back The Donbass and Crimea. The US, Turkey, and NATO have been delivering heavy artillery and supplies to Ukraine via Odessa's seaport, and the airport in Kiev. These "supplies" along with US, Canadian, French, and Turkish advisors is VERY expensive. Is it a bluff? If it is it's a very expensive one.
A US general has been there along with special ops troops from the US, France, Turkey, and Canada are there and have been as trainers and advisors.
It has been widely reported by Kiev, that Ukraine has posted some 100,000 troops along the border of Ukraine, Donbass and Crimea. Last night President Zelinsky went on TV and declared that Ukraine would attack and take back The Donbass and Crimea, and it was then all over Russian TV news.
In response, Russia has sent several thousand troops to Crimea and to Russia's border with The Donbass. Russian state media has confirmed the troop movement within Russia's borders. Russia is ready and on high alert.
I personally do not think this is just another bluff. From what I am hearing from [my] sources, this is extremely dangerous. I went on a video shoot today with several Crimeans…not one of them thinks this situation is dangerous…just more bluffing. I couldn't disagree more. When two armies are positioned just kilometers apart and the Kiev side keeps violating the truce and killing civilians, anything could result in that "shot heard round the world."
I do hope this is another big bluff, but even if it is, it is still extremely reckless. There can always be dangerous unintended consequences when you play chicken, especially with a nuclear superpower.
Natylie Baldwin is the author of The View from Moscow: Understanding Russia and U.S.-Russia Relations, now available on Amazon Kindle, with the print edition available here. In October of 2015, she traveled to 6 cities in the Russian Federation and has written several articles based on her conversations and interviews with a cross-section of Russians. She traveled to Moscow and St. Petersburg in May of 2017 to view the Victory Day celebrations and to do research on the Russian Revolution and how Russians commemorated the centennial. Her writing has appeared in various publications including Consortium News, OpEd News, The New York Journal of Books, The Common Line, and Dissident Voice. She lives in Portland, Oregon.
This article was published on April 3 here at Natylie's Place: Understanding Russia.