By Kenny Stancil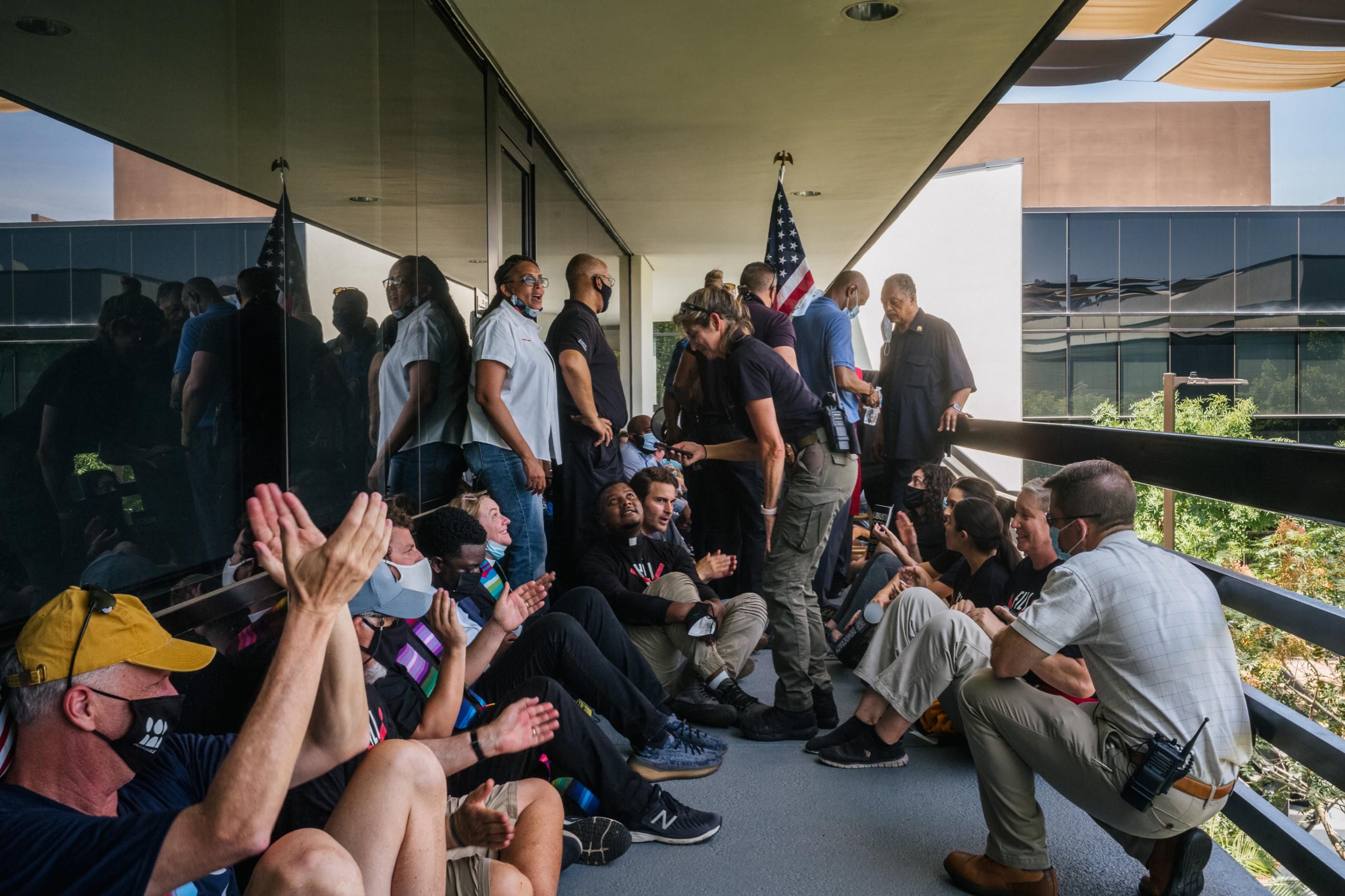 Protesters are processed by law enforcement during a sit-in demonstration outside the office of Sen. Kyrsten Sinema (D-Ariz.) on July 26, 2021 in Phoenix. (Photo: Brandon Bell via Getty Images)
"We've got to get these shackles off of our democracy," said Rev. William Barber.
Thirty-nine people, including civil rights champions Revs. Jesse Jackson and William J. Barber II, were arrested Monday during a sit-in outside the Phoenix office of Sen. Kyrsten Sinema, a conservative Democrat whose opposition to filibuster reform is enabling Senate Republicans to obstruct the passage of progressive legislation on voting rights, the minimum wage, immigration reform, climate action, and more.
"I taught kids for 25 years that this is what you have to do to change things, and now it's time to step up," Barry Smith, a 59-year-old retired schoolteacher from Phoenix, told the Associated Press prior to being arrested outside Sinema's office. "We're supposed to be a democracy, so having a minority running the Senate is just so infuriating."
With a simple-majority vote, Senate Democrats can abolish or reform the 60-vote filibuster rule. Sinema and Sen. Joe Manchin (D-W. Va.), however, have continued to insist—despite mounting evidence of legislative gridlock—that preserving the anti-democratic tool fosters bipartisan cooperation and that repealing it would cause more dysfunction.
Those two senators—along with several others in the Democratic caucus—also voted against including a $15 minimum wage bill in the coronavirus relief package that President Joe Biden signed into law in March.
Before they were arrested and charged with third-degree criminal trespass at Monday's sit-in, "several hundred activists marched about a mile from a park to Sinema's office in Phoenix's Biltmore neighborhood, chanting 'end the filibuster now,'" according to the AP.
Eliminating the filibuster would make it possible for Democrats to enact the House-passed For the People Act—a popular bill that would nullify Republican lawmakers' ongoing nationwide assault on voting rights by requiring states to meet minimum electoral standards.
Late last month, as Common Dreams reported, Barber, co-chair of the Poor People's Campaign, and other religious leaders and activists were arrested during a demonstration outside the U.S. Senate building following the GOP's filibuster of the For the People Act.
Barber told AP on Monday that Sinema's refusal to support filibuster reform is undermining not only voter protections but also other key progressive priorities, including raising the federal minimum wage to $15 per hour, providing undocumented immigrants with a path to citizenship, and confronting the climate crisis.
Activists in other states participated in nonviolent direct actions at Senate offices across the country on Monday as part of a month-long effort organized by the Poor People's Campaign.
"We've got to get these shackles off of our democracy," Barber tweeted after his arrest.
This piece was updated with information from the Poor People's Campaign about the nature of the charges.
Kenny Stancil is a staff writer for Common Dreams.
This article was published on July 27 at Common Dreams.