By Dharna Noor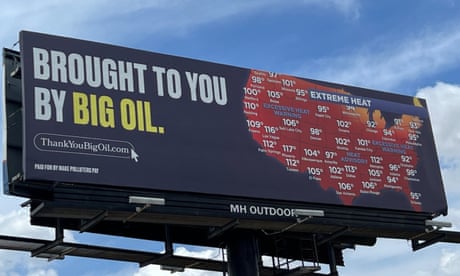 New York University plans to divest from fossil fuels, the Guardian has learned, following years of pressure from student activists. The move from one of the US's largest private universities, whose endowment totals over $5bn, represents a significant win for the climate movement, organizers said.
The university first formalized the commitment in an August letter from William R Berkley, chair of NYU's board of trustees, which was seen by the Guardian, addressed to a student activist group. "New York University commits to avoid any direct investments in any company whose primary business is the exploration or extraction of fossil fuels, including all forms of coal, oil, and natural gas, and not to renew or seek out any dedicated private funds whose primary aim is to invest in the exploration or extraction of fossil fuels," he wrote.
NYU has taken other steps to address the climate crisis, Berkley wrote, including slashing greenhouse gas emissions from building energy, setting goals to reduce food-related emissions and pledging to achieve net zero by 2040.
The university currently has "no direct ownership of public securities" of any fossil fuel company, he wrote. In 2014, the school had $139m, or 4% of its endowment invested in coal, oil and gas, university disclosures said at the time.
The commitment will apply to the top 200 coal, oil and gas companies, said an NYU spokesperson, Joseph Tirella.
The letter follows a February meeting between the NYU board of trustees' investments committee and the university's chapter of the youth-led climate organization Sunrise Movement, which has led recent advocacy for divestment on campus.
"The board was very pleased with the tenor of its conversations with the students and the letter arose from those exchanges," said Tirella. "The University is glad to know the students were also pleased by the outcome of those conversations and by the letter."
In an unusual move, Berkley addressed the letter directly to Sunrise organizers.
"I've read a lot of other divestment announcements from other schools and it's not common for them to name, much less to celebrate, the success of the student groups that got them there," said Alicia Colomer, an NYU senior who co-founded the school's Sunrise chapter in 2020, and also serves as communications coordinator for Fossil Free Research, an advocacy group focused on eliminating oil and gas funding in academia.
Students have been pushing NYU to divest from fossil fuels since at least 2004, but were previously rebuked.
"Back when I was at NYU … we were not exactly met with open arms," said Sophie Lasoff, who co-founded a fossil fuel divestment campaign as an NYU student in 2012 and now works as a political organizer, most recently with progressive political organization Justice Democrats.
In a 2016 open letter, Berkley said the board was "not persuaded" by the idea that divestment would cut fossil fuel dependency, arguing that the move would not reduce the funding available to oil and gas companies, that many fossil fuel companies invest renewables, and divesting from fossil fuels while still using them on campus would be "disingenuous".
"It would be hard to make those arguments today," said Dylan Wahbe, recent NYU graduate and co-founder of the school's Sunrise chapter, with slews of reports showing fossil fuel companies are continually expanding oil and gas and in some cases even rolling back earlier climate commitments
Public awareness about the climate crisis has grown, he added. "The global climate movement has done a great job at educating the world," he said.
Wahbe, Colomer, and other students relaunched divestment efforts at NYU in 2021. The campaign collected more than 2,000 petition signatures and garnered about two dozen endorsements from approximately two dozen organizations, including unions representing graduate students and professors, and New York City's Sunrise Movement chapter.
Though fossil fuel divestment is a major win, there is more NYU should do to cut ties with oil and gas companies, said Wahbe.
"Divestment is part of a larger push to have these institutions disassociate from this corrupting industry," he said. In the future, he expects efforts to eliminate fossil fuel funding for research at NYU while ensuring important climate-focused scholarship is a priority.
Some student organizers have also been pushing university board members to disaffiliate from fossil fuel companies. Last month, a renowned environmental lawyer at Harvard University stepped down from a highly paid role at the oil and gas giant ConocoPhillips following months of pressure from activists.
Some activists have also called on NYU to remove certain members of its board of trustees, including Larry Fink, CEO of the asset manager BlackRock, a major investor in oil and gas whose fossil fuel investments have been the subject of public scrutiny, and the Fox Business News journalist Maria Bartiromo, who last year said that declining investments in oil and gas are an "emergency". Fink declined to comment; Bartiromo was not immediately available for comment.
Some 250 US educational institutions have divested from fossil fuels, according to data from Stand.earth and 350.org. Last year, students at five leading universities – Yale, MIT, Princeton, Stanford and Vanderbilt – filed official legal complaints accusing their colleges of breaking the law by investing in coal, oil and gas companies.
Dharna Noor is a fossil fuels and climate reporter at Guardian US.
This article was published on Sept. 12, 2023 at The Guardian.