By Will Wade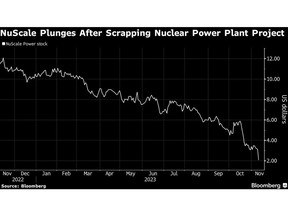 (Bloomberg) — NuScale Power Corp., the first company with US approval for a small nuclear reactor design, is canceling plans to build a power plant for a Utah provider as costs surge. The move is a major setback to the burgeoning technology that has been heralded as the next era for atomic energy.
The company and Utah Associated Municipal Power Systems agreed to cancel the Carbon Free Power Project, according to a statement Wednesday. NuScale shares slumped as much as 42%, the biggest intraday decline since the Portland, Oregon-based firm went public through a 2022 merger with a blank-check company.
The decision to terminate the project underscores the hurdles the industry faces to place the first so-called small modular reactor into commercial service in the country. NuScale is part of a wave of companies developing smaller reactors that will be manufactured in factories and assembled on site, a strategy that's expected to make them faster and cheaper than conventional nuclear plants.
Salt Lake City-based UAMPS supplies wholesale electric services to about 50 municipal utilities in the US West. The companies had said that UAMPS members or other utilities needed to commit to buying 80% of the project's power for it to be feasible. NuScale has agreed to pay UAMPS a termination fee of $49.8 million.
"The customer made it clear we needed to reach 80%, and that was just not achievable," NuScale Chief Executive Officer John Hopkins said on a conference call Wednesday. "Once you're on a dead horse, you dismount quickly. That's where we are here."
Critics have warned that costs for the NuScale project were climbing. The company said in 2021 it would deliver power for $58 a megawatt-hour, but that figure has jumped 53% to $89, according to a report from the Institute for Energy Economics and Financial Analysis.
Nuclear energy has seen a recent resurgence as intensifying climate change boosts the appeal of the carbon-free power source. But the major costs involved in building new plants have been a stumbling block for the industry. Southern Co.'s Vogtle project is nearing completion and will be the first newly constructed US reactors in decades — but it came in billions over budget. One of the promises of smaller reactors is that they were supposed to be easier to build, which would limit cost overruns.
The Carbon Free Power Project would have used six of NuScale's 77-megawatt reactors, installed at Idaho National Laboratory. It had been expected to begin delivering power in 2029.
The project, which was granted a $1.4 billion cost-sharing award with the Department of Energy in 2020, has received $232 million of that funding, according to the department.
"We absolutely need advanced nuclear energy technology to meet ambitious clean energy goals," the DOE said in a statement. "First-of-a-kind deployments, such as CFPP, can be difficult."
Will Wade is a journalist with Bloomberg News. With assistance from Ari Natter.
This article was published on November 8, 2023 at Bloomberg News.